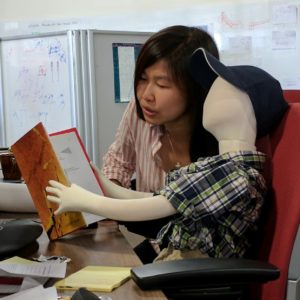 Postdoctoral Fellow
Ph.D. Mechanical Engineering, Texas A&M University
M.S. Mechanical Engineering, Carnegie Mellon University
B.S. Bio-Industrial Mechatronic Engineering, National Taiwan University
Amy is a post-doctoral researcher at EPIC lab. Her research focuses on improving gait and balance following neurological injuries using assistive exoskeleton devices. She is currently working on control algorithms that could provide adaptive assistance for stroke survivors in community ambulation. She completed her doctoral study at Texas A&M University, where she focused on sensory augmentation using skin stretch feedback to improve postural balance. Her research interests lie in robotic neurorehabilitation, controls of complex systems and dynamic stability of human walking. When she is not doing research, she enjoys reading, watching news, playing video games/ukulele and talking to her cat.
Projects: