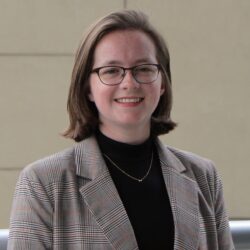 M.S. Student, Bioengineering, Georgia Institute of Technology (Fall 2020 – Present)
B.S. Mechanical Engineering, West Virginia University

Emily is a Master's student in Bioengineering. She graduated from West Virginia University with a BS in Mechanical Engineering. Her research interests lie in rehabilitative and assistive robotics. Emily works on the pediatric knee exoskeleton project to aid children in walking with the help of powered assistance. Outside of the lab, she enjoys cooking, outdoor activities, and tending to her plethora of houseplants.