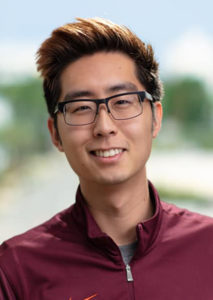 M.S. Student, Mechanical Engineering, Georgia Institute of Technology (Fall 2019 – Present)
B.S. Mechanical Engineering, Virginia Tech (2019)

Julian Park is a Master's student in Mechanical Engineering. His main focus is to help design and manufacture two different hip exoskeletons: version 2 of ROAMR, version 3 of the hip exo. His research lies in how the same controller can have different effects on different types of actuators, and therefore he will soon be leading a comparison test between V2 ROAMR and V3 hip exo. Outside of lab, he enjoys playing ultimate frisbee and volleyball, as well as most winter sports, such as snowboarding and ice-skating.
Projects:
Rapid Operator Awareness via Mobile Robotics
Powered Hip Exoskeleton