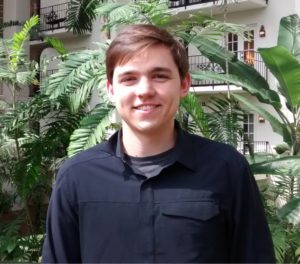 Ph.D. Student, Robotics, Georgia Institute of Technology (Fall 2019 – Present)
B.S. Mechanical Engineering, Vanderbilt University
Keaton Scherpereel is an NSF GRFP Fellow and NSF ARMS (Accessibility, Rehabilitation, and Movement Science) trainee in the Robotics PhD program. Co-advised by Dr. Young and Dr. Inan, his research is focused on using joint sounds to estimate joint load during walking. He hopes to use this in developing a knee exoskeleton that responds to physiological state. Outside of the lab, you can find him playing music, hiking, or playing a casual game of ultimate.
Projects: